Discipleship Classes
Every Sunday, from 10/10/2021 to 11/14/2021, 5:00 PM - 6:00 PM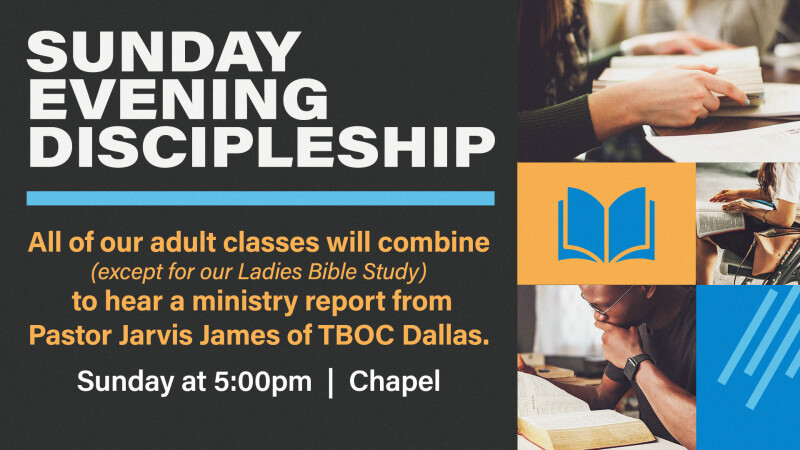 Combined Discipleship Class
Sunday, Nov. 14 at 5pm
This Sunday is our last night for Sunday Evening Discipleship Classes. We hope you've enjoyed this time learning!
All of our adult classes (except for our Ladies Bible Study) will combine in the Chapel to hear a ministry report from Pastor Jarvis James of TBOC Dallas.
Elijah Ladies Bible Study, Discipleship and Arts for Kids, and Youth Small Groups will still meet.
We will resume classes in 2022 on Sunday, January 23! Details coming soon.
"Elijah" Ladies Bible Study
Led by Mary Beth Carpenter
Location: Room E206
Join Priscilla Shirer on this 7-session journey through the life and times of the prophet Elijah to discover how the fire on Mount Carmel was forged in the valley of famine. And how the emboldened, fiery faith you desire is being fashioned by God in your life right now.
Discipleship & Arts for Kids
Location: Children's Building
Gathering Activities begin at 4:45pm
For Kids 3 years old - 6th Grade
Children will learn how to grow in the Lord by learning how to pray, study God's Word, Love others and Worship. Children will be provided opportunities to choose activity options which will develop their giftedness in music, drama, and visual arts.
"Youth Small Groups"
Led by Hunter Fountain and the Youth Interns