Charles Billingsley Worship
Sunday, July 14, 2019, 10:00 AM - 11:30 AM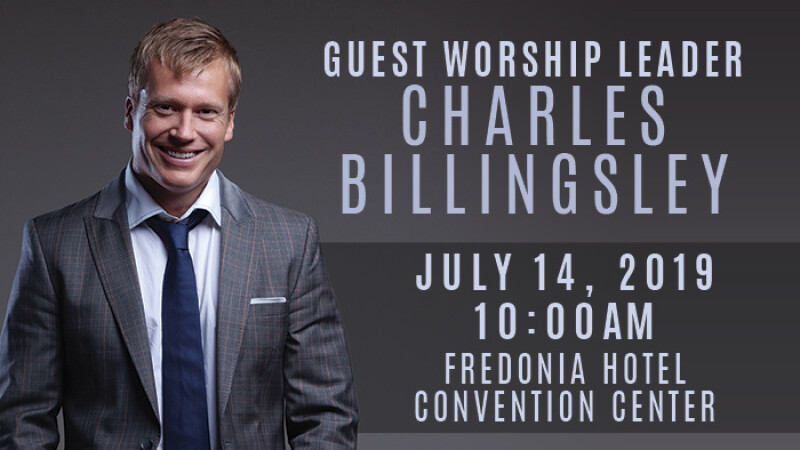 Sunday, July 14, we will come together for one combined worship service led by GRAMMY®-Nominated Worship Leader, Charles Billingsley, at 10:00am at the Fredonia Hotel Convention Center.
There will be no Sunday School or other activities.
About Charles Billingsley
It's no secret Charles Billingsley is one of Christian music's most captivating inspirational voices, but for this singer, worship leader, husband, father and teacher—to name but a few of his leading roles—it's what's behind the music that has truly made the man. Launching his career more than two decades ago fronting GRAMMY®-nominated genre giants NewSong, Charles has since headlined more than 3,000 concerts and released 24 recordings as a solo artist. Charles is a sought after worship leader who regularly appears at such popular events as Women of Joy, Gridiron Men and Celebrators, among numerous others.
When he's not on the road, Charles and his family—wife Shae and teen sons Caleb and Cooper— call San Diego, California home, and it's his days offstage that ultimately inspire him the most. "Being a father is a lot like being a teacher," Charles relates. "There's a lot of pressure and accountability to be the man I'm supposed to be, for my kids to see the same guy at home as they see onstage at church. I want them to witness me reading Scripture; I want them to have conversations with me about the Lord on a regular basis so they know this is not just a job to me, but a lifestyle."