MissionNAC 2022
Wednesday, June 15, 2022 - Saturday, June 18, 2022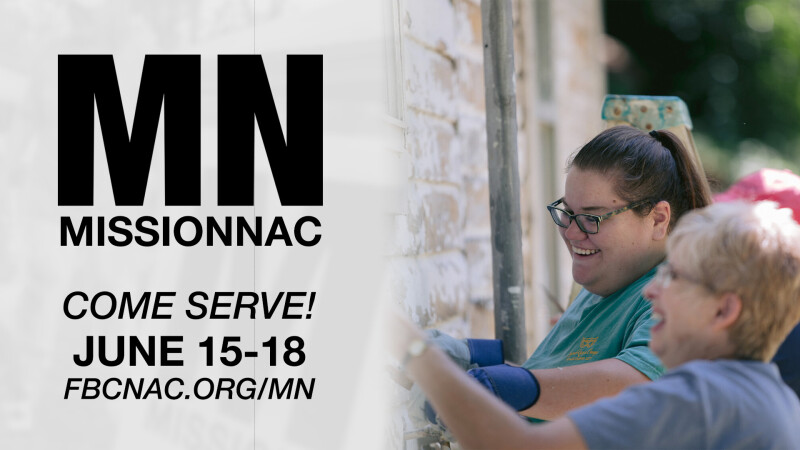 First Baptist will be joining MissionNAC for Summer Works Project 2022. This is a community wide 4-day work project to SERVE those in our community who simply need a hand up - the needy, the disenfranchised, the widow. As the body of Christ in Nacogdoches, we will repair roofs, scrape and paint siding, build porches and carports, replace windows and trim, deliver furniture, mow, garden, trim trees, landscape, and so much more for our neighbors at no cost to them.
About Mission Nac
MissionNAC exists to inspire THE Church of Nacogdoches to come together in unity, amidst diversity, to be a "City set on a hill," for the betterment of our city, to the glory of God. We believe the love of Christ forges us together in friendship and unites us in mission. Our desire is to serve our city together, worship together, and to see Nacogdoches thrive!
No specific skills are required - anyone can help, but if you do have specific skills in home building or repair, there is definitely a need for you!
action steps to get involved

:
Nominate Homes in need of repair or assistance to be a project house. (By May 24)
Nominate A Home

Sign up with FBC to be a project crew chief or skills advisor.
Sign Up To Be A Leader
Watch this video for details
Sign Up for MissionNac Works 2022**
Sign Up
**Be sure to select "Church Affiliation" and enter "First Baptist Nacogdoches"
- Our FBCNac Mission Nac Team will contact you for further instructions. (if you haven't heard from the FBCNac Team in 2 weeks, email to confirm your Mission Nac registration.)