Wednesday Night Meals
Every Wednesday, from 09/06/2023 to 12/06/2023, 5:00 PM - 7:00 PM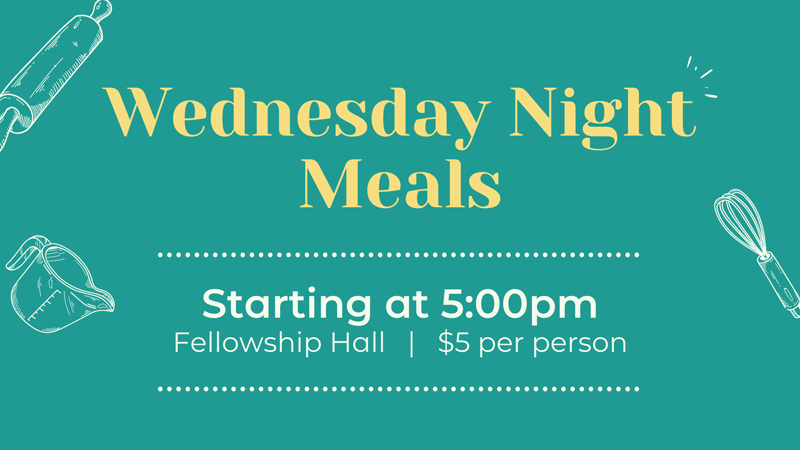 Weekly Meals are available at a cost of $5 per person and meal service will begin at 5:00pm in the Fellowship Hall or you may select to receive your meals to go.
**Registration ends at noon each Monday to allow us time to gather meal items.**
Online registration for Wednesday meals opens each Thursday and closes Mondays at Noon for each week's meal. If you find that this form is unavailable, it is most likely that the registration for the upcoming meal is closed.
We make every effort to ensure we prepare portions for each meal based on registration. However, we do plan for extra meals each week. If you find the form shows as "Expired", we welcome you to call the church office at 936-564-7379 to see if we have the capability to get you registered for this week's meal. If we are unable to do so, we invite you to register for next Wednesday's meal when registration opens on Thursday.
Fall Meal Schedule

:
Sept. 6 - Beef & Cheese Enchiladas, Refried Beans, Salad
Sept. 13 - Baked Chicken, Corn, Salad, Roll
Sept. 20 - Hamburger Steak in gravy, Mashed Potatoes, Green Beans, Roll, Dessert
Sept 27 - Pulled Pork Sandwiches, Chips, Dip, Dessert
Oct. 4 - King Ranch Chicken, Green Beans, Fruit, Dessert
Oct. 11 - Breakfast Casserole
Oct. 18 - Spaghetti Bake, Green Beans, French Bread, Dessert
Oct. 25 - NO MEAL (Fall Fest)
Nov. 1 - Chicken Pot Pie, Fruit, Dessert
Nov. 8 - Taco Bar, Dessert
Nov. 15 - Baked Potato Bar w/ Chicken, Salad, Dessert
Nov. 22 - NO MEAL (Thanksgiving)
Nov. 29 - Lasagna, Salad, Bread, Dessert
Dec. 6 - Beef Tortilla Soup, Fruit, Dessert