STAY CONNECTED WITH CHURCH UPDATES
Text Alerts: Text "fbcnac" to 936-241-4646.
Email Updates: Text "fbcnac" to 22828 or click here.
---
CHURCH OFFICE AND CHRISTIAN LIFE CENTER CLOSED
Due to concerns regarding COVID-19, as of Monday, March 23 the First Baptist Church Office and Facilities will be closed until further notice.
You may still call the office number to speak with a staff member. 936-564-7379
Please understand, we close our facilities in an attempt to safeguard the health of visitors as well as staff members.
If you stop by the church to give an offering, please call or text Jeff at 936-553-2566 or Donna at 903-692-1251.
Thank you in advance for your patience and understanding!
---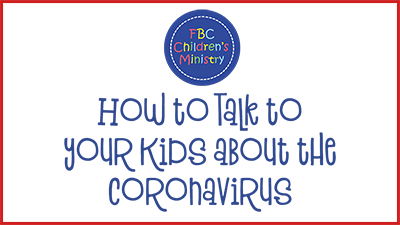 Our Children's Minister, Melanie Matson, has put together this information to help parents talk to their kids about the Coronavirus.
---
Tuesday, March 17
Good morning. It was good to worship Sunday. We had about half of our church present on campus and about half watching online.
What is the plan moving forward?
On Sunday evening, the CDC issued guidance that there should be no gatherings larger than 50. On Monday, the President issued a strongly worded declaration that groups should be limited to no more than 10.
So, after careful consultations, we have decided for all church related events will be moved online or cancel/postpone them until further notice.
So, let's talk about Sunday Services.
We will have One Service this Sunday at 9:00 am and that service will be online only.
Of course you could view the service any time after 9:00am but we are asking you and your family to sit down together and "officially" "have church" on Sunday. We will work very hard to deliver the best worship service/experience we possibly can. Your staff is working very hard on this.
You can view the steaming service on either Facebook or our church website (fbcnac.org). We are taking steps this week to make sure the service streams without hiccup on both platforms. We are not totally in control of that, but we have a plan.
You can also watch the service on KTRE, Sunday at 10:00am.
Additionally, we can provide the service on DVD.
If you cannot watch online but you do have the capability to watch a DVD, we want to help.

DVD's can be picked up on a table outside the office door at the church on Saturday. Please just take one.

There is no cost to you for the DVD.

We can deliver a DVD to you on Saturday if it is not safe for you to travel to the church.
If you need a DVD delivered, call the church before Friday at noon. 936-564-7379
It is important during this time that every believer sit down and worship every week.
That is scriptural.

Sit down with your family.

Formalize this event.

Sing along.

Take notes.

We will email everyone a message outline and also provide that on our website.
Let me tell you how to stay connected and informed…
Sign up for our text alerts. Text "fbcnac" to 936-241-4646.

Sign up for our church emails. Text "fbcnac" to 22828 or

click here

.
What all is going on around your church…
Wednesday night youth worship and Bible study will happen online tomorrow evening. Follow on Instagram @fbcnacyouth.

Each minister will release a 5-10 minute update video each Wednesday evening on our website updating people involved in their ministries with what all is going on and how people can stay plugged in.

Our children's ministry is working on a way to move our Easter egg hunt to your homes…

There is also a plan to connect with our kids to their SS class online.

We have put together a plan to stay in contact with every member of FBC.

Our college ministry is reaching out to students now spread across the country.

Our We Love Our Community ministry is moving forward…

I will announce in my Wednesday video a plan to continue to deliver daily devotions to our church members.

Our men's discipleship groups are continuing.
This is a busy place, and we are committed to working harder than ever to expand our ministries.
I am excited about my message this Sunday. You will hear more about that in a video soon, as well as our daily devotion plans.
Pastor Noel
---
Saturday, March 14 - 6:30am
No change to Sunday morning schedule! Still meeting as normal. Pastor Noel shares some updates and encouragements for us.
Good Morning First Baptist Family.
Of course, everybody's concerned about the Corona virus, how that crisis affects our community and our church. We made a final decision, as final as any decision can be right now, yesterday after governor Abbott's press conference to continue our Sunday morning schedule for this week. We'll decide about next week, next week. But we watched that press conference very closely. The governor advised certain safeguards and procedures and we had already made plans to embrace every one of those that he suggested. The governor did not recommend that crowds of certain sizes in the state of Texas be curtailed and he did not recommend that churches suspend services. So we decided after that press conference that, at least for this Sunday, we would continue with our Sunday morning schedule.
I want you to know that both before and after the Governor's presser, I personally consulted with many people. I talked with medical professionals, physicians in our church and in our community. I talked with church and community leaders. I talked with decision makers in the field of education in our community. I talked with pastors, both local pastors and pastors around the country. I had a very good and helpful conversation with our mayor, Shelley Brophy. But at some point we have to quit reconsidering and we just have to make a decision or we won't ever make a decision. So the decision was made to move forward. Of course, if something significant were to happen between now and Sunday we would respond to that accordingly.
These kinds of decisions are not easy decisions. People are going to have different points of view. Churches are going to make different decisions. Some churches are having services tomorrow and some churches are not. I think this is not the time to criticize, but this is the time for grace and mercy on those kinds of things. Recognizing that every church and every leader, every business leader and civic leader, everybody is trying to make the best possible decision, frankly, without full information. We may know things two weeks from now that will either affirm or not the decisions that we make today. But we have to make decisions with the information that we have and everybody's scrambling to do their very best.
So let's talk about Sunday. First of all, if you're sick, stay home. That's the best advice I can give. Secondly, if you feel unsafe or if you are especially vulnerable to this infection then you should stay home. Don't come to church. Some people say, "Well, if the doors are open, I'm coming." Well, if the doors are open and it is safe for you to come, then you should come. If it is not then you should stay home. The rest of you, we are going to have a great service tomorrow, 9:00am and 11:15am. I hope if you're able to come and it is safe for you to come, uh, that you will join us.
Now, just a quick note about 11:15am. If you want to come, but you're just a little bit nervous about the crowds, the 11:15am may be the service for you. With our college students on extended spring break, that is going to be a pretty sparsely attended service. So you could probably come and have a half pew to yourself. You can get all by yourself and that service I imagine. So that's an option.
But let me shift our focus for just a minute. And this is what we're going to be about tomorrow. A time of crisis is a time for the church to shine. We don't need to sit around and just have our focus on us. How is this going to affect us? "Woe is me." No. Now's a time for us to show the love of Christ our community and we're going to talk about how we can do that, how we are going to do that and opportunities that you will have to do that. That will be our focus tomorrow.
You're going to hear about Youth Ministry plans tomorrow. How our Youth Ministry plans to minister to teens on extended spring break. You're going to hear about how our College Ministry is looking for ways to minister to international students who are stranded at the university during this crisis. You're going to hear how our Children's Ministry has created a tool to help parents talk to their children in this crisis. There may be spiritual conversations that happen with parents and children that would never have happened apart from this crisis. And our children's ministry has created a tool to make that, to make those conversations gospel focused.
And we're going to announce tomorrow plans, and we're going to need you to help with this. We're going to need volunteers for this, but we want to tell our community starting Monday, anybody in our community that is vulnerable to this virus, mainly senior adults, but also those who have illnesses that make them vulnerable, that we want to be their delivery service. If they can't go to the grocery store or they can't go to the drug store, then people at First Baptist Church will go for them. There will be a system where they can call in and tell us what it is that they need. Then our people will go out to those stores and get those items for them and deliver those items to their homes in the safest way possible. And we just want to show our entire community the love of Christ and in the midst of this crisis, um, that, that love should, should shine.
Now, one more important thing about tomorrow. If you are watching us online, our services are streamed both on Facebook and on our website. We have heard that because so many churches and so many people across the nation are going to be watching their churches service on Facebook, that it may not be the most reliable service tomorrow. Nobody knows. We'll just have to wait and see. So if you ordinarily watch it on Facebook or if you're planning to watch it on Facebook and it's not working well, then go to our website, fbcnac.org right across the top. There is a countdown right now to our service tomorrow. And then tomorrow it'll just say "Watch Live". But you just click on that banner at the top and it'll take you there. If you plan to watch online tomorrow, my suggestion would be go ahead today and visit that website, make sure you know how to get there and where the button is and that you don't have any questions. So that tomorrow you can be a part of our worship service even if you are unable to attend.
Be praying for your neighbors. Check on your neighbors. I've got a list of senior adults that are on my mind. I'm going to give them a call today. Just make sure they're doing well. We should all be doing that. Love on your neighbors. Love on your community. And we hope to see you tomorrow, either in person or via a video. Thank you.
Pastor Noel
---
Friday, March 13 - 1:15pm
We are moving forward this Sunday morning with our normal schedule of worship services and Bible study groups. Safeguards are in place to provide as safe an environment as possible. NO EVENING ACTIVITIES
If you would like to attend the worship services but are nervous about the crowd, we recommend coming to our 11:15am service. With most of our college students on extended break, there will be plenty of room to spread out.
Of course, both our 9:00am and our 11:15am services will be streamed on Facebook and here on our website.
It is going to be a great day at FBC Nac! We hope to see you here.
Pastor Noel
---
Thursday, March 12
Greetings First Baptist family,
I come to you today for the purpose of talking about coronavirus and how that affects our church and our ministries. Many people are expressing concerns and asking questions. I want you to know that your church is working to stay on top of the situation and minister both to our church family and our community and also provide a safe environment for worship and ministry.
Let me share a few important points. First, it is important that we do not overreact, and it is important that we do not under react. As Christians, we must not be gripped by fear or hysteria.
2 Timothy 1:7 | For God has not given us a spirit of fear, but one of power, love, and sound judgment. (CSB)
Isaiah 41:10 | Do not fear, for I am with you; do not be afraid, for I am your God. I will strengthen you; I will help you; I will hold on to you with my righteous right hand. (CSB)
However, we must also use the wisdom the Lord has given us. So, we have consulted with healthcare professionals and have put safeguards in place to promote a safer environment. I'll share those safeguards in a moment. But before I do, let me remind everyone that our first concern as Christians is to minister to and have a gospel witness to those around us in our neighborhoods and in our workplaces. As many people are in a state of fear and panic, let us look for opportunities to show them the love of Christ. A crisis like this reminds us all that our only hope is Christ. Let us be more about the hope we have in Christ than the fear we have in some virus.
Second, let's talk about some safeguards.
Stay informed. Visit our website (fbcnac.org) and our church Facebook page for updates concerning our church. At present, none of our schedules have changed. And at this time, we do not anticipate a change. If they change, you will hear about that through all our normal channels of communication. We have postponed our senior adult trip next week and we are closely monitoring all of our upcoming mission trips, but regular Sunday schedules have not changed, so we hope to see you Sunday!
If you are sick, please stay home. No reason to play the hero. For the sake of others, just stay home and watch online or on the television broadcast.
While at church on Sunday, a few things will be different…

No handshakes and no hugs. We will greet everyone with a holy elbow bump.
We will not be passing offering plates this Sunday. Instead we will use the collection boxes at all the exits. More on giving in a moment.
At children's check-in kiosks, we will have volunteers who will type in your information so that you will not have to come in contact with the check-in computers. (By the way, we will maintain the highest standards of cleanliness in our children's ministry spaces. Melanie and our children's ministry team are fully committed to providing safe environments for our children.)
Our greeters and ushers will open all the doors for you.

(Some may suggest that these measures are not necessary, and they may not be. But we want to take all reasonable precautions. We are not in a panic. We are going to have a great service on Sunday. But we want you to know that if we can do something to ease fears then we will.)
Online viewing… Just a reminder that we stream our services online both at our website and on Facebook. We have recently invested in high-tech, high-definition video systems to provide an excellent online experience. So, if you do not feel it is safe for you to come to church, please join us online. Also, our services are broadcast on the local ABC station each Sunday. That service is delayed one week in order to provide the government mandated closed captioning.
Online giving… The ministries of our church will continue to move forward. Our ministers will work and minister in our community each day no matter what this virus brings. It is important that our church members continue their financial support. Options: Collection boxes on Sundays, bring your offering by the church, online giving at FBCNac.org, telephone giving (just call the church office and they can take your credit or debit card for confidential and secure online giving)
Our Lord is sovereign and good. He is the strong tower (Proverbs 18:10). I am looking forward to a great day of worship this Sunday. And I look forward to seeing you here.
Pastor Noel