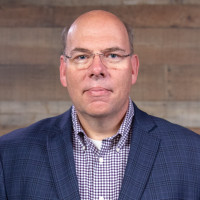 In his 28 years of ministry, Noel has served as youth minister, associate pastor, and pastor. For 22 of those years he has pastored congregations in Mississippi, Alabama, and Ohio. He and his wife, Donna, are the parents of three girls – Hannah (18), Emily (15), and Rae (11). He holds a B.S. in Theology from Liberty University and a Master of Arts in Religion and a Master of Divinity Equivalency from Liberty Theological Seminary. He is in the latter stages of completing his doctoral work at Southern Baptist Theological Seminary.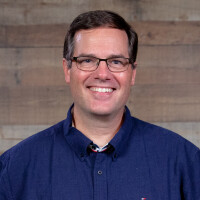 Mark McLendon
Associate Pastor of Ministries
E-Mail:

Mark has been at First Baptist since 2017. Before coming to First, Mark has been in ministry for 25 years and has served in many capacities as a student minister, college minister, senior adult minister, singles minister, discipleship minister and education minister.
Mark and Meredith have been married since 2014.
Andre Simon
Minister of Music
E-Mail:

Andre has served as Minister of Music at FBC Nacogdoches since January 2002. His passion is to challenge people to experience the presence of God through worship, both corporately and privately. Born and raised in Marshall, Texas he received his Bachelors of Music Education at Northwestern State University in Natchitoches, LA and his Masters of Religious Education at Southwestern Baptist Theological Seminary in Fort Worth, TX.

Andre and Ronna have been married since 1996 and they have a son, Andrew.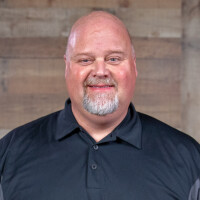 David has served as our Youth Minister since February of 2007 and has been working in youth ministry since 1994. He has worked on staff at Centrifuge youth camps serving in a variety of roles including director and served a church as youth minister in Tennessee. David is originally from Nacogdoches and graduated from Nacogdoches High School in 1988. He received a B.S. in Kinesiology degree from Stephen F. Austin in 1995 and received his M.A. in Religious Education in 1998 from Southwestern Baptist Theological Seminary.
David and Kristie have been married since 2002 and have a daughter, Brynna.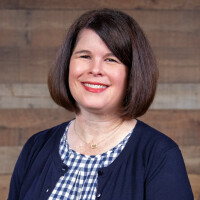 Melanie Matson
Minister of Children
E-Mail:

Melanie has served as Children's Minister at First Baptist Church Nacogdoches since July 2009. She is a native of Nacogdoches and a long-time member of First Baptist. She even met her husband, Craig, in the "early days" of Great Escape. Melanie is a 1992 graduate of Stephen F. Austin State University. While in college, on a trip to Student Week at Glorieta, New Mexico, God called her to serve Him. She did not know the specifics of what all He would have in store but she knew He had plans for her life. She has always loved serving the Lord, from teaching Preschool Church and VBS to serving for 17 years as Acteens leader. In 2009 God turned her focus and heart towards serving Him in a greater capacity. In July of that same year, she began serving Him as Children's Minister at First Baptist. Melanie loves being with children; coloring, cutting, pasting, playing, reading, singing and dancing (which she is not very good at), but most importantly, her heart is in teaching and showing children how much our awesome God loves each one of them! Her primary focus is to help children grow in their love and knowledge of the Lord and guide them on their journey to the point where they know and love Him as their personal Lord and Savior.

Melanie and Craig have been married since 1993. They have one wonderful son, Davis and a crazy dog, Scout.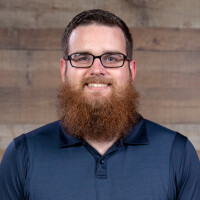 Kaleb West
College & Missions Minister
E-Mail:

Kaleb and his wife, Kelsey, are both from Iowa Park, Texas. They come to us from a college ministry post at FBC Wichita Falls. They have two children, Oliver and Althea.
Kaleb is a graduate of Wayland Baptist University and is pursuing further education at Southwestern Baptist Theological Seminary.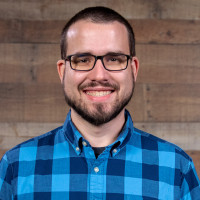 Jonathan has served as our Media & Communications Director since August of 2007. He graduated from Stephen F. Austin State University with a Radio/TV Communications degree. He is a Nacogdoches native and has been involved at FBC throughout the years serving in various capacities from leading worship to technical assistance to helping out with various other ministries.
His passion is to carry the Gospel of Jesus Christ to our visually-driven, ever-changing world through the use of technology and media, and to equip other ministries of the church to use digital media as a worship and outreach tool.

Jonathan and his wife Becca were married in 2010 and have two boys, Andrew and Luke.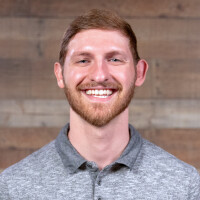 Austin Ratliff
Music Associate
E-Mail: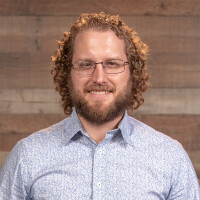 Jeff Thompson
Administrator
E-Mail:

Rana Hillis
Pastor's Secretary
E-Mail:

Barbara Breazeale
Music & Children's Secretary
E-Mail:

Lynne Witcher
Receptionist
E-Mail:

Donna Burchett
Financial Secretary
E-Mail:

Wendie Wooten
Youth & College Secretary
E-Mail:

Steve Parkey
Facilities Manager
E-Mail: