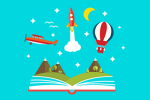 First Baptist Summer Reading Program
Great books with uplifting content!
Fun to read… Fun to share… and Prizes!
The purpose of the Summer Reading Program is to encourage elementary and junior high students to read wholesome and uplifting books by providing lists each year of the best literature. A list of books is selected from by Triple Crown Awards. Click here for more information.
Our hope is for kids to avoid the summer slump and spend time reading instead of sitting around or playing video games all summer!
In the Church Library you will find sections of books for ages 3 - ages 14.
At the end of the program awards will be given to those who read the most books!
Pearl Books for Ages 3-6
Crown Books for Ages 7-10
Lamplighter Books for Ages 11-14
Instructions:
1. Check out Pearl, Crown, or Lamplighter Books from the Church Library.
2. Fill out a reader's card on the library desk for each book that's been read.
3. Put reader card in the appropriate Pearl, Crown, or Lamplighter Box!
Stop by the Church Library today! Librarians are available Sunday Mornings and Wednesday Nights!
Program runs June through October