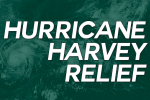 Any and All donations given through First Baptist Nacogdoches for Hurricane Harvey Relief will go directly to "North American Mission Board - Send Relief"
"Send Relief and Southern Baptist Disaster Relief are on the front lines responding in the wake of Hurricane Harvey. Recovery efforts are in progress for residents who need assistance. You can help now by praying, giving and going. One hundred percent of every dollar given goes directly to aid Southern Baptist Disaster Relief efforts."
---
Upcoming Opportunities
---
From Pastor Noel:
Several people have been contacting the church, asking if there was some way that they could help out the victims of hurricane Harvey and be a part of the relief effort.
There are a couple of ways that you can help right now. Number one, you can give financially. You can still give through our church and we'll make sure the money gets to where it needs to be. You can simply come by the church office hours anytime today or later this week. You can give by check or with cash and we'll make sure as I said that it gets where it needs to be.
You can also give electronically. Go to our website and go to electronic giving. There will be an opportunity there as you give on the pull down list, there will be a place that says, hurricane Harvey. You can indicate that you would like for your gift to go toward that and we will make sure that it does.
Also, you can go to the North American Mission Board web page. They are an organization that collects the funds necessary for all of the Southern Baptist relief efforts. The Southern Baptist will be one of the biggest groups on the ground helping out, even now, and especially in the days to come. That web site is namb.net. NAMB stands for North American Mission Board dot net. When you go to that web page, I pulled it up just a minute ago, there's a button you can click and you can give immediately and it will go straight to where it needs to go.
But you know, there are also some opportunities for you to be more directly involved. I want to let you know about that because this is something I think our whole church family can be a part of and be on this. People in our community, I want you to help us get the word out in the next few hours of how people can be more directly involved.
The Drewery Construction And Tree Service company, they are coordinating relief efforts for the flood victims in the Houston area. They will be making deliveries from Nacogdoches to the First Baptist Church of Huffman, Texas. They've got a truck that's going to leave every day for Nacogdoches at 6:00pm. We don't know for how many days, for as long as people are interested in helping I imagine and as long as there's a need. Their address is, 902 South East Stallings, here in Nacogdoches. You can search on your GPS for Drewery Construction and Tree Service.
Let me tell you the items that they're wanting to take down. They're wanting to take adult diapers, children's diapers, baby wipes, sleeping bags, large trash bags, toilet paper, paper towels, first aid items, peanut butter and jelly, bread, eggs, milk, water, dog and cat food, toiletries, female products, Gatorade, thin bed mats, hand sanitizers, sandwich bags, gallons of water and other individually packaged snacks.
They will not accept clothing. Other organizations are helping out with that, they're not setup for that so don't bring clothes, but any of these other items would be very helpful. If you bring perishable items they need to be in a cooler to make sure that they stay cold. They cannot return your cooler so the cooler will be part of the donation. It can be even just a Styrofoam ice chest but there has to be some way to keep the food cold while it travels.
I think this is a way that we can all be involved. We will post this list in a comment along with the web site that I mentioned earlier where you can give on a note below this video here shortly. If you can help I want to encourage you to do that.
I know you'll be praying. Pray specifically for the victims of hurricane Harvey and all the flooding that's associated with that. But also be praying for the first responders, be praying for the rescue workers and then the relief workers that will follow. This is going to be a disaster for a long time. This is going to create problems in people's lives that we can't even imagine for a very long time. I want us, as the church of God and as the family of God, to be involved in this any way we can.