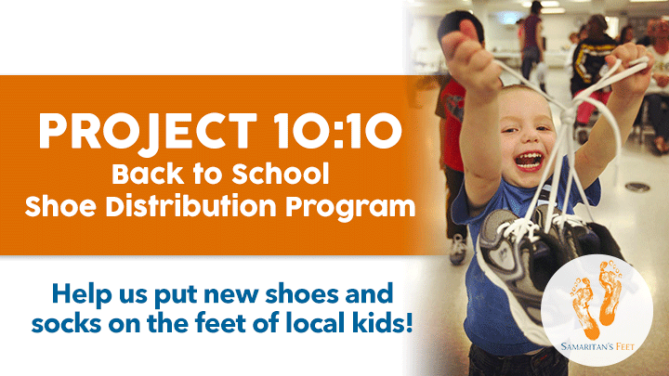 Project 10:10 is an incredible hometown outreach that helps purchase shoes and socks for kids at the Glory Gang ministry.
Here's how it works... look for one of the Project 10:10 tables located throughout the church and pick up an envelope. In that envelope you'll find a card with instructions and a child's name. We ask that you take that card and place it somewhere that will remind you to pray for that child. We then ask you give whatever God lays on your heart and place it in the envelope and then place that in the bowl located on the table.
What a great "hometown" mission effort as we will make sure that kids right here in our own town will start the year off with new shoes and socks, but most importantly, be able to hear that Jesus loves them.
Shoes and socks are in the "Top 10 Items Needed" by students in school. Your contribution will go toward the purchase of a new pair of shoes and socks for Glory Gang Children.
Thank you for partnering with us in this project.
GOD BLESS YOU!