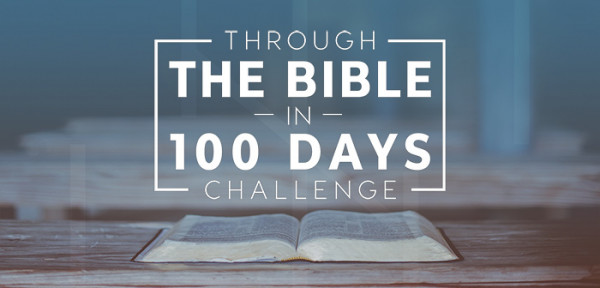 Join the Facebook Discussion Group
Reading will begin Monday, December 31.
The Psalmist wrote that the person whose delight is in the word of God and who makes it his priority to regularly read and study the Bible, that person will know the Lord's delight and have the strength of a tree planted by streams of water. In the first twenty weeks of 2019, we want to join together as a church and a faith community to do exactly that.
We are committing ourselves to the Lord and to one another to read through the whole Bible story in 100 days (20 weeks, 5 days/week). We won't read every verse in these 100 days, but we will study key passages that will give us a great exposure and connection to the Scriptures. Each week our pastor will preach from the passages we read the previous week and then he will preview the upcoming assignments. We will do this together and share in the accountability and the joy of completing this challenge.
We invite you and your whole family to join in this. You can sign up at the church, on our webpage, or even by phone by calling the church office. Invite your family and friends to join you in this even if they live out of town. Let's celebrate the Bible, one of the Lord's greatest gifts to us, as we join in this life-changing challenge.